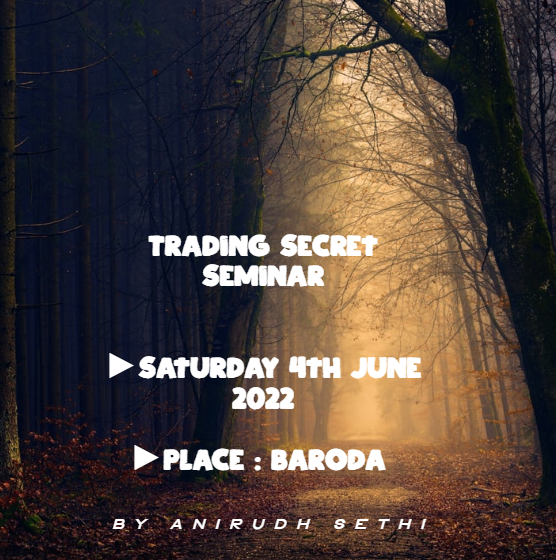 Once in Life time Opportunity ,If u have Thirst to Learn some Unknown secrets of Technical Analysis.
•Yes ,No Software in World will Teach u or reveal u and 10000% Nobody knows these secrets 
•Now Book Your Ticket for Baroda ,Date : 4th June 2022.
•Seminar will be for 3 hours and will change your TRADING LIFE ►It's my Open challenge.
•Will reveal u #Boxchart ►This once u get will be Jackpot for Your Life 
•U will get 2 More secrets (Indicators )
•Only 100 Traders 
•Fees Rs 3 Lakh only ( It's my challenge it's Peanuts )
1:1 Guidance for next 3 Months ,I will give u about #Boxchart and 2 Indicators and many more secrets.
Last Date to Enroll 30th May '2022
(All Money for Charity only ) 
Once u get these secrets (My Mentor given me in year 1991 ) will reveal first time.It's My challenge u will not lose Money in trading ( 10000% )
More if u wish to know send E-mail
(If u have real Thirst to Learn something which will create wealth for U and for your Generations then u will not miss )